Dave Theno Fellow Presents at MSU Graduate Conference
Jaime Ragos, the 2019–2020 Dave Theno Food Safety Fellow with Stop Foodborne Illness (Stop), presented her ongoing research at the MSU Council of Graduate Students 12th Annual Graduate Academic Conference on February 22.
Jaime's research titled, "An Evaluation of the Long-Term Consequences of Shiga-Toxin producing Escherichia coli and their Various Comorbidities" will evaluate the correlation between post-infection chronic conditions and Escherichia coli (E.coli) infection.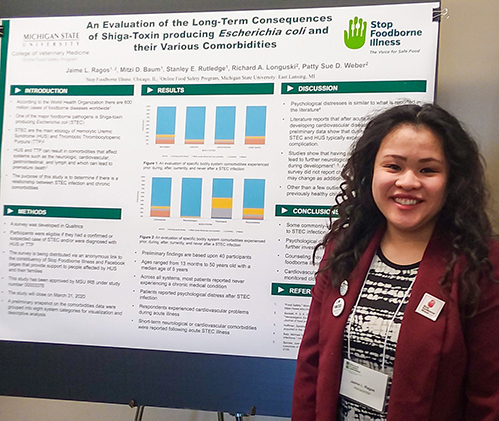 Jaime distributed a survey to clients of Stop and through social media channels that help individuals and families affected by E. Coli. The study began on January 8, 2020 and will close March 31, 2020. 
"Coming to MSU and attending the conference was a great experience. I was able to network with students and listen to all the phenomenal research that is going on at MSU. I was also grateful to present my research in such an intimate setting," said Jaime.
During the fellowship, Jaime is employed full-time with Stop and is enrolled in the MSU Online Food Safety (OFS) Programs 12-credit food safety certificate.
"Jaime presented an outstanding poster presentation on her preliminary survey data.  It is always exciting to watch a young enthusiastic researcher present their findings at a conference," said OFS Acting Director, Dr. Patty Weber.
For more information regarding Stop and the Dave Theno Fellowship, please visit https://stopfoodborneillness.org/fellowship/. To learn more about the OFS food safety certificate, visit https://foodsafety.msu.edu/continuing-education.